Site menu
Vote For Me
Statistics
---
Total online: 1
Guests: 1
Users: 0
Main » 2013 » July » 20 » Siblings to sing paeans in praise of Lord Vitthal
---
10:06 AM
Siblings to sing paeans in praise of Lord Vitthal
Friday, Jul 19, 2013, 11:00 IST | Mumbai


Ashadi Ekadashi, a festival celebrating Maharashtra's presiding deity Lord Vitthal when lakhs of devotees walk all the way to Pandharpur, a special concert of abhangs and devotional songs dedicated to Lord Vitthal — Bolava Vitthal — is being organised in Mumbai on Friday.
Well-known Carnatic vocalist siblings Ranjani and Gayathri will be the star attractions at the concert which began its eight-city tour from Belgaum on July 11 and has travelled to Bangalore, Hyderabad, Goa, Aurangabad and Nashik before coming to Mumbai. It will conclude in Pune on Saturday. Leading vocalists Suresh Wadkar, Jayteerth Mevundi, Devaki Pandit, Rahul Deshpande and Anand Bhate are also part of the line-up in the seventh edition of this heady mix of devotion and music.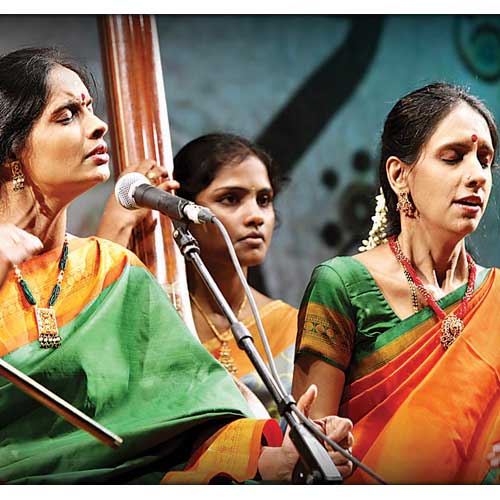 Carnatic vocalist siblings Ranjani and Gayathri will be the star attractions at the concert.
Originally from Matunga, siblings Ranjani and Gayathri are now Chennai residents. They love the response they get in Maharashtra while singing abhangs. "A chance meeting with Vishwas Shelgaonkar, a banker from Washington DC over a decade ago, introduced us to this treasure-trove of compositions by Bhakti poet-saints like Dnyaneshwar, Tukaram, Eknath and Namdeo," says Gayathri.
Born into a Palakkad Iyer family, Ranjani and Gayathri's musical talents were discovered early and they trained in the violin from an early age. Even before they were teens, they were well-known as top-class violinists and accompanists of international repute on the concert-circuit.
When asked about their music, which many call an exhilarating blend of vitality, melody, emotion and classicism, Ranjani attributes it modestly to her teachers. "The violin brings immense discipline to your music and our Carnatic training brings the laykari and energy people admire us for," she explains.
They are already besieged with calls for encores of favourite abhangs at the concert and admit that they will abide by those demands. "We particularly get requests for Bolava Vitthal by Saint Tukaram which we have set to raag Bhatiyar and Dhanya Dhanya by Saint Eknath set to raag Durga," smiles Ranjani.
Satish Vyas, head of Pancham Nishad that put together the concert, said: "This concert is not only for devotees, but also for music lovers. The tunes and classical finesse promises a resplendent evening. We initiated the idea with the objective of giving an opportunity to music lovers and devotees to listen to maestros singing praise of Lord Vitthal through compositions of well-known Bhakti poets."
Views:
524
|
|
|
Login form
Search
Latest Updates
Calendar
Entries archive
ADS